ABOUT THE E1 SERIES
What is the E1 Series?
The E1 Series is the world's first and only electric powerboat racing series. The series was established to create an exciting, competitive racing platform to promote sustainable electric watercraft and reduce the environmental pressures being placed on the ocean, rivers and lakes.
The UIM E1 World Electric Powerboat Series will see up to 12 teams competing on the water in spectacular global race locations. The pilots will tackle tight and technical circuits, reaching speeds close to 50 knots (93 km/h or 58 mph) behind the wheel of the RaceBird powerboats designed by SeaBird Technologies and Victory Marine.
The E1 Series was launched in 2020 by two close friends from the automotive world, Alejandro Agag and Rodi Basso. Alejandro is a groundbreaking pioneer of sustainable motorsport, having created three electric racing series from scratch: Formula E, Extreme E and now the E1 Series. Rodi Basso is an entrepreneurial motorsport engineer with a passion for the sea and innovation, with an impressive background in Formula 1 working with Ferrari and Red Bull Racing (as well as time working with NASA).
During the COVID-19 lockdown, the two friends were taking a walk together on the River Thames in London and mused that the marine transportation world needed to catch up with the automotive world in adopting electric power.
From experience, they know that sport is a powerful platform for making change in the wider world, so they decided to create the E1 Series to not only offer exciting electric powerboat racing at spectacular venues around the world, but to drive innovation and change in marine mobility and try to leave a sustainable legacy in ports.
See who's involved
Alejandro Agag, Co-Founder & Chairman of E1

Alejandro Agag is a pioneer of sustainable motorsport. His career in motorsport began with GP2 and Formula 1, where he ran a GP2 team and acquired television rights for Formula 1 in his native Spain. Agag played a key role in expanding Formula 1 in Spain, and was instrumental in achieving major sponsorship deals.
Through his extensive connections in the motorsport industry and vision for a sustainable future, he was able to develop two electric race series from scratch: Formula E and Extreme E, which began its inaugural season this year in Saudi Arabia. The E1 Series is his latest venture in electric motorsports.
Rodi Basso, Co-Founder & CEO of E1

Rodi Basso is a Naples-born engineer with a passion for innovation. Having written his thesis with NASA, his background as an aerospace engineer led him to work with some of the biggest names in motorsport. He worked with the Ferrari race team for six seasons, before moving to Red Bull Racing for a further nine seasons.
In 2016, he became the managing director of McLaren Applied, where he met Alejandro Agag. In 2020, during the first UK lockdown, he was out for a walk with Agag by the River Thames in London and proposed a sustainable racing series, akin to Formula E. This led Basso to work alongside Sophi Horne to develop what would eventually become the RaceBird.
Dr. Raffaele Chiulli, President of the UIM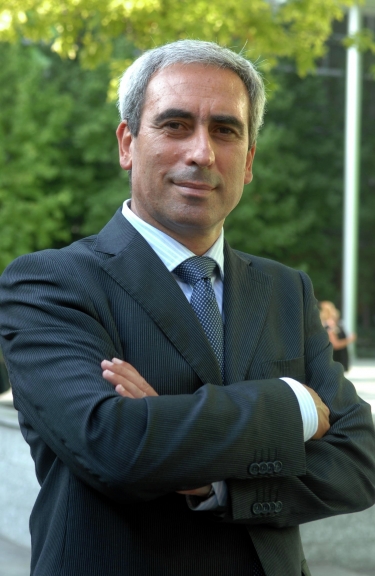 Dr. Chiulli is President of the UIM (Union Internationale Motonautique), the international powerboating federation and world governing body for all powerboating activities, fully recognised by the International Olympic Committee.
Among multiple achievements and awards, Dr. Chiulli is also President of GAISF (Global Association of International Sport Federations), the worldwide governing organisation for the 95 Olympic and non-Olympic international sports federations. He is also the President of SportAccord, the organiser of the world sport and business summit.
Sophi Horne, Founder of SeaBird Technologies

Sophi Horne is a Norwegian designer and the originator of the RaceBird prototype. She began her career in the marine industry designing interiors for super yachts at SH Maritime. Driven by a desire to make leisure boating more accessible for the general public, she looked for companies to work with that aligned with her vision of sleek, electric boats.
When she couldn't find any, she created SeaBird Technologies and approached Alejandro Agag, who became the company's first investor. Sophi then went on to design the RaceBird, the powerboat unveiled on June 7, alongside Rodi Basso.
Brunello Acampora, Founder & CEO of Victory Marine

Brunello Acampora studied as a yacht and power craft designer at Southampton Solent University in the UK.
After experience as a junior designer at Cougar Marine's drawing office, Brunello moved to Turin in Italy to found Victory Design, the naval architecture and marine engineering firm that he still owns and manages today.